A bi-weekly series profiling insiders in the fashion, beauty, sports, public relations and media industries (editors, PR girls, etc.) whose successes in the industry is beyond inspirational.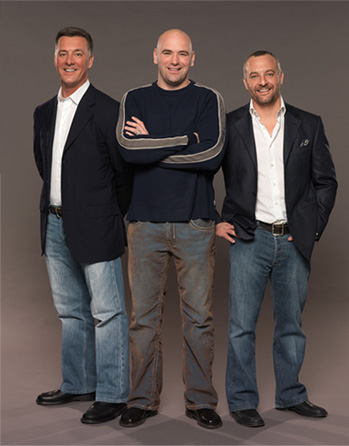 From left: Frank Fertitta, Dana White, Lorenzo Fertitta
Photo courtesy of UFC.com
President of the Ultimate Fighting Championship, Dana White, is our newest Industry Insider.
White attended the University of Massachusetts, but never finished his degree. While in Boston, being an avid boxer, he started an inner-city youth boxing program.
Along with boxing, White also has a background in aerobics. In the early 90s, he moved to Las Vegas, established his own enterprise and taught aerobics classes at local gyms.
On the side, White also managed fighters in the up-and-coming sport mixed martial arts (MMA). While managing, White learned the UFC's parent company at the time wanted to sell the Ultimate Fighting Championship.
White reached out to his long-time friends Lorenzo and Frank Fertitta about buying the organization. They liked the idea, so they bought the league, put it under their company, the now widely recognized Zuffa, LLC., and made White its president.
White is a well-rounded man; he's charitable and a family man--he's married with three children.
He's also very controversial and outspoken. White is blunt and there's plenty of video footage to prove it. White made it to where he is today because he doesn't take anything from anyone.
White helped popularize MMA in America and today it's one of the most widely watched sports. The UFC is the most popular fight league--fighters from Brazil, Japan and numerous other countries come to compete in the octagon.
The UFC even spawned its own show--The Ultimate Fighter. Amateur fighters knock each other for a chance at six-figure, UFC contracts and a chance to become "the next Ultimate Fighter."
To keep up with White check out his
Twitter
,
Facebook
,
video blog
and
UFC.com
.
Until next time...
xox,
Your Girls Under PRessure